Now that you know how to get your marriage license application completed and get your marriage license at the courthouse (Getting Your Marriage License Made Easy), it's time to talk about getting your name changed.  To get your name changed with the DMV, passport office, work insurance, etc. you must present a certified copy of your marriage license.  This process is even easier than getting your license.  I explain the steps in my consultations, but I also go over it again the day of your wedding.  A lot can happen between our consultation and your wedding day; months go by, paperwork gets misplaced, etc.  This is why I revisit this topic as we are signing your marriage license after the ceremony.
The first thing you need to know is that not all brides decide to change their last name. I would estimate that approximately 90% of my brides change their names to their husband's last name. The choice to change your last name or keep it is entirely up to you and there is no law that says you have to change it. I had one bride tell me that she was the last one in her family with her father's name and wanted to continue his legacy, and therefore decided to keep her maiden name.   You also have the option of hyphenating your last name with your husbands.  But again, you can keep your last name if you wish.
The form below is included in the marriage packet you will pick up at the courthouse.  It is very straightforward with the exception of a few things.  First take a look at the form and then read on below.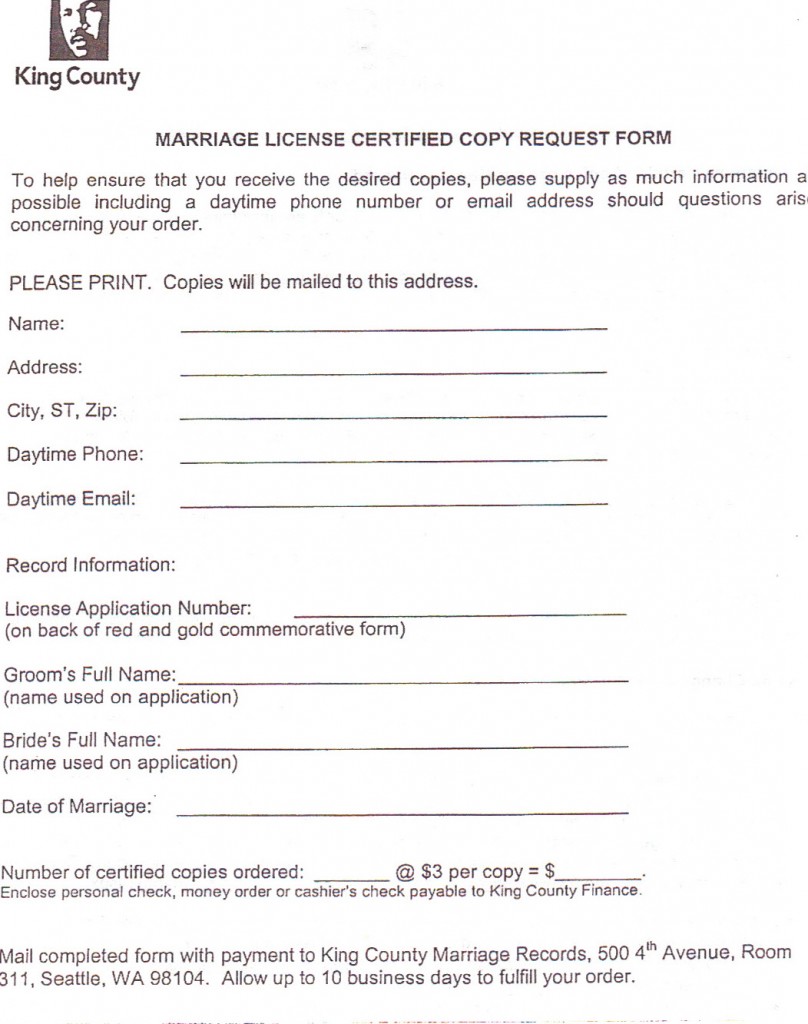 You will fill this form out and send it in 10 days after your wedding day.  By the way, you have up to a year to send this form in, so there is no rush.  For example, you can take care of  this after you return from your honeymoon. 
It's important to know that the courthouse gets especially busy in the summer months and they need to receive your marriage license before they can process your certified copy request.  It's up to your officiant to forward the marriage license to the courthouse after the wedding.  I take care of this either the same day or the very next business day after the wedding.  If you are in a hurry to get your certified copy you can go to the courthouse with your completed marriage license and pick up your certified copy in person.  Only one of you has to go.
Filling out the certified copy request is fairly straight forward:
Address:  Enter the address where you want your certified copies mailed.  It is acceptable to use your parent's address if you are in the military and move around a lot or are in some other kind of transition.
E-mail: Either of your e-mails is acceptable.
License Application Number: This number is found on the back of your "pretty" copy called "Certificate of Marriage".  As a courtesy, I usually write this information down for my couples because there is too much going on at the moment of signing the documents to try to remember where that little number is.
Groom's Name: Groom, write your full legal name.
Bride's Name:  THIS IS IMPORTANT-BRIDES, WRITE DOWN YOUR MAIDEN NAME OR THE NAME YOU USED WHEN YOU APPLIED FOR YOUR LICENSE.  In other words, don't write down your new married name.
Date of Marriage:  I usually fill this in for the couple as well.
Number of Certified copies:  I recommend 3-5 copies.  They are only $3.00 per copy so you may as well stock up.
Finally, you will send a check that equals the number of copies you are ordering (5 copies = $15.00) to the address at the bottom of the form.
You will receive your certified copies in approximately two weeks; longer if it's the middle of summer as the marriage licensing office gets swamped with paperwork this time of year.
Once you receive your certified copies of your marriage license, it's time get started changing your name!  I hope this information was helpful.   I welcome your questions or comments!
http://seattleweddingofficiants.com/wp-content/uploads/2016/04/logo2.png
0
0
MissElaine
http://seattleweddingofficiants.com/wp-content/uploads/2016/04/logo2.png
MissElaine
2012-11-01 15:34:56
2016-06-22 16:14:08
Getting Your Name Changed After Marriage