So you're getting married ~ what kind of ceremony do you want?
Non-traditional, non-religious
Traditional, with religious undertones
Second time around? No fuss, just friends and family
LGBTQ wedding
Vow renewal
Intercultural with a traditional custom added
Super short ~ let's get the party started!

About Me
Get to know your Seattle Wedding Officiant, Elaine Way
Seattle Wedding Officiants
Services
I'll create a wedding ceremony that you and your guests will love and remember!
Seattle Wedding Officiants

Marriage License
Getting a Marriage License in the State of Washington
Seattle Wedding Officiants


Blog
Elaine Way shares wedding stories, wedding trends and more!
Seattle Wedding Officiants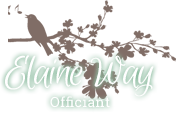 Contact
I would love to hear from you so I can be your Seattle Wedding Officiant
Seattle Wedding Officiants
Read What Couples Have to Say…
"Working with Elaine was wonderful! Elaine is professional and friendly, she's passionate about what she does and really knows her stuff. I am so, so glad that we hired her to officiate our wedding. She walked us through the process of creating/writing our ceremony, and was very helpful in answering questions, providing ideas, etc. At the rehearsal, she was efficient and professional, and made the process a breeze for us all. The wedding ceremony could not have gone better. I received multiple compliments from our guests on her officiating… she did a fantastic job! We could not have been happier with Elaine and her services."
"My husband and I chose to elope in Seattle, but had never been there before. I stumbled upon Elaine ' s website and she made it so easy for us. Elaine was able to help us choose a perfect location for us at the Goodwin Library, picked up our marriage license for us, and even made reservations for our after wedding dinner. I was amazed at the time she took to help us with our elopement and the sincerity and kindness she had for us. Everything was just perfect!"
"I can't begin to list all of the superlatives that could be used to describe Elaine. She's very thoughtful and intuitive with a lot of flexibility thrown in. She helped us put together a small, intimate wedding ceremony that was very meaningful to us. We recommend her with enthusiasm."