The Wedding Cake
History:  In ancient Rome, marriages were sealed when the groom smashed a barley cake over the bride's head. (Luckily, tiaras were not fashionable then.) In medieval England, newlyweds smooched over a pile of buns, supposedly ensuring a prosperous future. Unmarried guests sometimes took home a little piece of cake to tuck under their pillow.
By the mid sixteenth century, though, sugar was becoming plentiful in England. The more refined the sugar, the whiter it was. Pure white icing soon became a wedding cake staple. Not only did the color allude to the bride's virginity, but the whiteness was "a status symbol, a display of the family's wealth." Later, tiered cakes, with their cement-like supports of decorative dried icing, also advertised affluence. Formal wedding cakes became bigger and more elaborate through the Victorian age. In 1947, when Queen Elizabeth II (then Princess Elizabeth) wed Prince Philip, the cake weighed 500 pounds.  (Carol Wilson, Gastronomica article "Wedding Cake: A Slice of History".)
Fast forward to 2012 and the sky is the limit as far as what you choose for your wedding cake.  Available in almost any size or shape, color or flavor, wedding cakes can be made as simple or elaborate as you wish.  We are all familiar with Mike's Amazing Cakes.  Mike will take your vision and create a work of art.  I hope Mike provides cutting instructions for his cakes!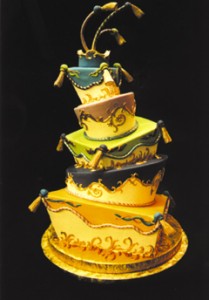 While you may not want something fanciful and otherworldly like Mike's cake above, you most certainly will want something to express a bit of yourself through your wedding cake.   For example, there are the wedding colors to take into consideration.  Will it be practical and attractive to incorporate the lime green, raspberry and taupe colors you have chosen for your wedding theme into your wedding cake design?  Probably.  Think about all the flowers that are available in the summer.  A simple layering of flowers in your wedding colors on the cake could easily bring the wedding cake into the color scheme without appearing out-of-place.  Or maybe you don't care about incorporating the wedding colors and want to decorate the cake with bling?  Or perhaps colors and bling are not what matter at all and it ends up being a unique design with a cake topper reflecting your new family – including the family dog.  Check out the three examples below:
[nggallery id=23]
And what about the cake, icing and filling flavors?  Depending upon your baker, you will have many choices: white cake, chocolate cake, carrot cake to name just a few.  For icing how about buttercream, cream cheese or fondant?  The filling can be as simple as more buttercream or as seasonal and delicious as fresh raspberry mousse.  Pick flavors that you love but also flavors that your guests will enjoy and remember.
Last, but certainly not least: Cupcakes instead of wedding cake?  Yes!  Cupcakes have most definitely proven that they can take the place of a traditional wedding cake.  If you do choose cupcakes for your wedding, you are faced with the same decisions: design, color, flavor.  One of my favorite ideas is to choose your cupcake and frosting flavor and then create a unique edible decal.  You can read more about this idea in my blog post: "Introducing Ticings: Edible Toppers for your Wedding Cake, Cupcakes or Cookies".   Here's an example of a cupcake with an edible decal: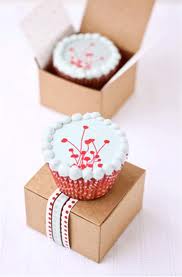 Whatever you choose for your wedding cake, be sure to have fun.  This is a time to be inspired and there are so many wonderful bakeries that are more than willing to meet your expectations.
What kind of cake/cupcakes are you having for your wedding?
MissElaine
http://seattleweddingofficiants.com/wp-content/uploads/2016/04/logo2.png
MissElaine
2012-01-17 23:35:28
2012-01-17 23:35:28
Customs, Rituals & Traditions: Let Them Eat Cake!