Marriage License Application
One of the topics I discuss with couples in my consultations is the application process for getting a marriage license in Washington State.
I am a licensed notary and can do all the paperwork for you.  Read more below.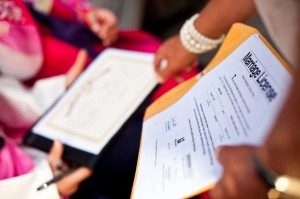 SEATTLE WEDDING OFFICIANTS DOES ALL THE PAPERWORK
I became a licensed notary in the state of Washington in 2012.  One of the biggest reasons for adding this service to my business was the passing of Ref74, which gave same gender couples the legal rights to marry in the state of Washington.  There were so many same gender couples coming to Seattle to get married, and it was a very exciting time for our wedding community.  As you can imagine, there were many questions regarding the entire process (as there often are with any wedding).  I realized that by becoming a licensed notary I could take care of helping couples process their marriage license application.
In our initial consultation we will fill out the marriage license application together.  I will require valid photo I.D. (driver's license or passport) to notarize your application.  Then you will pay me the $67 and I will take the completed application and fee to the King County Marriage License office.  Next, I will have the clerks process your application and purchase your marriage license with the $67 fee you have given me.  I will then bring your marriage license to your wedding and afterwards, make sure your license is completed properly.  Lastly, I will deliver it back to the the King county courthouse to make sure it gets filed in a timely manner.
My notary service and the ability for me to take care of all the paperwork makes my engaged couples' lives way easier than having to take the day off of work to get their marriage license.
If you live out of state, ask me for my cheat sheet on "How to get your marriage license by mail."
I will help you craft a perfect ceremony and assist with
the details so you can focus on the joy and happiness on your special day.
Call me at 206-406-7919 or use this easy contact form.
I now also offer free video to video SKYPE consultations.